Whether you're looking at Kawasaki Jet Skis, Yamaha WaveRunners, or Sea-Doos, any one model in this collection of affordable personal watercraft (PWCs) will deliver a fun-factor of 10. Few experiences are as exhilarating as wave-hopping, carving out hairpin turns, and going from zero to warp-speed in the blink of an eye aboard a PWC.
Though it may seem surprising at first, there's a wide swath of affordable options that come in below—sometimes way below—the $10,000 mark. Don't believe us? Start exploring these seven new 2021 personal watercraft models, all for less than $10K.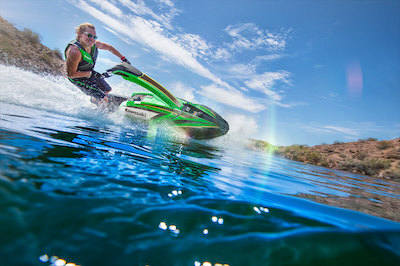 1. Kawasaki Jet Ski SX-R
With an MSRP one dollar less than the $10,000 cap, we're glad to see the Kawasaki Jet Ski SX-R in this mix because it's the modern version of the original single-rider stand-up PWC that Kawasaki first introduced to the world in 1973. With a potent 1,498cc four-stroke engine blasting water through a 148mm axial-flow jet pump, 957 pounds of thrust will rocket you to speeds of about 60 MPH.
Plus, with a curb weight of 551 pounds and a length of 8' 8.5", the SX-R is notably larger and heavier than the old-school stand-ups of the past. As a result most riders report that stability and handling are more predictable. That means it takes a shorter learning curve to master—and you can start having fun from day one.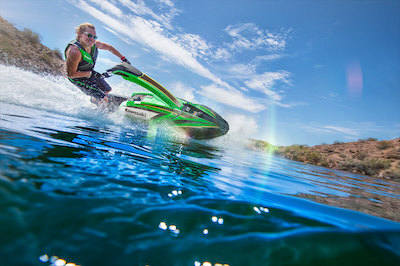 2. Sea-Doo Spark & Spark Trixx
At $5,499, the Sea-Doo Spark is the most easily affordable new PWC on the water. The base model is a two-seater, and a three-seat model can be had for an additional $1,700. Fuel capacity is 7.9 gallons, and rider weight capacity is 352 pounds for the two-seat version and 540 pounds for the three-seater.
One big difference between the Spark and most other PWCs is the hull, which is molded out of Polytec, a polypropylene material reinforced with long-strand fiberglass. It's lighter than molded fiberglass, which is one reason why Sea-Doo can equip the stock Spark with a diminutive 899cc 60-horsepower Rotax 900 ACE engine, yet still hit speeds of over 40 MPH. And if you'd rather hit speeds over 50, the High Output 90-horsepower version can be had for an additional $1,300.
The Trixx version is the Spark with a twist: it has a variable trim system (VTS) that lets you control the bow-rise at different speeds, and angled step wedges behind the seat. This makes it possible to ride the Trixx in a standing position, more or less vertical to the water's surface, as well as when sitting down. Standard power for the Trixx is the 90 HP Rotax powerplant, and it enjoys a few additional perks like Sea-Doo's iBR electronic reverse, telescopic adjustable handlebars, and enhanced graphics.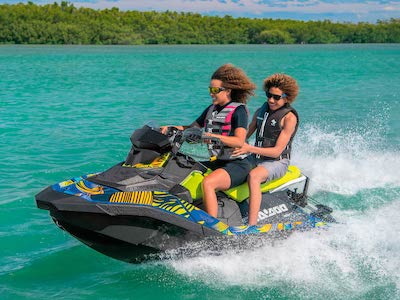 3. Yamaha WaveRunner EX
Yamaha's WaveRunner EX line-up starts with the $6,999 EX, and includes EX Sport ($7,999), Delux ($8,999), EXR Race ($9,499) and Limited ($9,599) versions. Even though the base model EX is Yamaha's starting point, it's sized to carry up to three riders. Power comes courtesy of a 1049cc Yamaha TR-1 three-cylinder four-stroke engine, pushing water through a 144mm high-pressure pump. Fuel capacity is 13.2 gallons, and it has a storage capacity of 7.7 gallons. With a top-end of around 50 MPH, this is one of the faster models under the $10,000 price ceiling.
The Sport version adds in additional watersports features, like an upgraded tow hook, dual mirrors, and a reboarding step.
Moving up to the Delux gets you everything the Sport has plus Yamaha's RiDE reverse system.
As one might surmise, the EXR Race model is meant for those desiring a bit more pep, which is accomplished by tweaking the TR-1's ECU to wring out another 10 or so horsepower and adding an additional 40mm to the waterjet pump, while also utilizing Yamaha's NanoXcell hull. This brings package weight down to 540 pounds, as compared to 600 pounds for the EX Delux even though the Race also has all the additional features of the other XL models. Net result is a top-end boost of around five mph plus faster acceleration.
Finally in the line, the EX Limited takes the EX Delux and then adds in all the extra that you'll likely discover you want after owning a PWC for a season or two. An inflatable tow-tube and tow rope, a 12-volt air pump, a dry stowage bag, a PWC cover, fenders, and a portable Bluetooth sound system are all part of the mix.